Surge Protection for
Home Level 2 EV Charging Stations
OVERVIEW
Today's increased reliance on very sensitive electronics makes surge protection an important topic for Electric Vehicle (EV) Charging Systems and Electrical Vehicle Supply Equipment (EVSE). The Insurance Institute for Business & Home Safety study found that $26 billion dollars was lost due to non-lightning power surges. In addition, there are about 25 million lightning strikes in the US each year that cause between $650M to $1B in losses according to the Insurance Information Institute, State Farm©.
This article discusses the application of surge protection for Level 2 EV Charging Station(s) at your home, in your garage or at the workplace.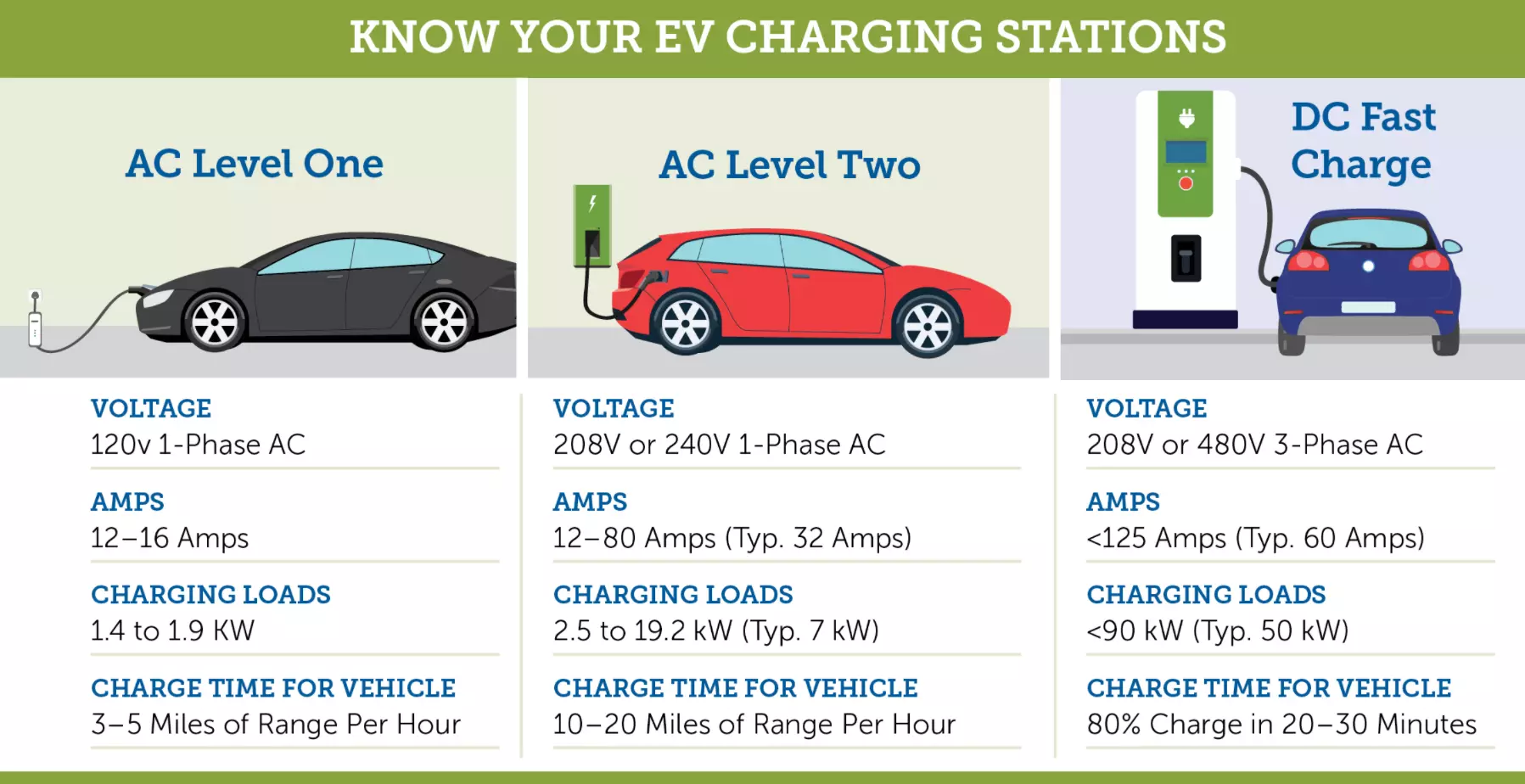 Go to Level 1 | Go to Level 2 | Go to Level 3
Level 2 EV Charging Station
Power Source : 240Vac Household Outlet
Level 2 EV Chargers are for residential home applications utilizing a 240Vac outlet for the power source. With up to 8 hours to charge time for a 124 mile trip, these chargers are faster than EV Level 1 Chargers and are hardwired to the main service panel.
EV Level 2 SPD Protection Point : At The Main Distribution Panel
Per the NEC 2020, since your home is a dwelling unit as defined by Article 230.67, a UL1449 Listed SPD must be Installed at the incoming 120/240Vac main service panel. Shown below is an example using the M50-120T-A.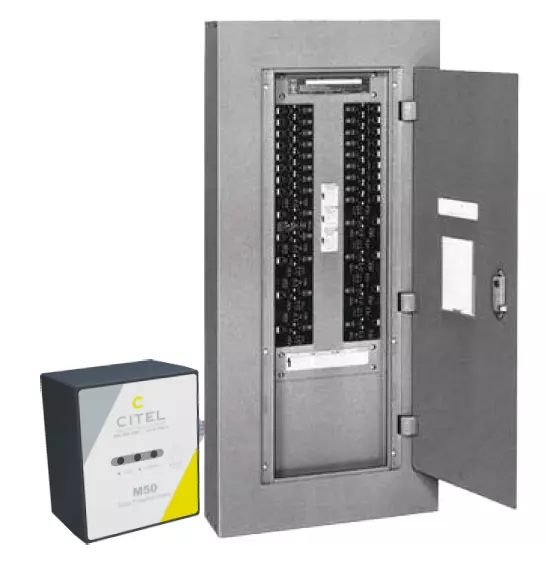 The M50-120T-A is installed via a 2-Pole 30A circuit breaker and will not only protect the Level 2 EV charging system but all circuits on the main service panel. This protector is what is referred to as a "Whole House Surge Protector".
Links to Level 2 EV SPD
Location
Equipment
System
Surge Protector
Model #
Link
Main Service Panel
120/240Vac
M50-120T-A




120/208Vac
M50-120Y-A
Contact us to develop a surge mitigation solution for your application
Where to purchase Citel SPD's
---
EV Models Currently Available in the US
Audi | Bentley | BMW | Chevrolet | Chrysler | Ford | Honda | Hyundai | Land Rover | Nissan | Porsche | Tesla | Volkswagen |
Surge Protectors for Audi EV Models
| Make/Model | PHEV/BEV | Main Panel Voltage | Outlet Voltage | Surge Protector Citel Model | Link |
| --- | --- | --- | --- | --- | --- |
| Audi A8 L 60 TFSI® e quattro tiptronic | PHEV | 120/240Vac | 120Vac | M50-120T-A | |
| Audi e-tron | BEV | 120/240Vac | 120Vac | M50-120T-A | |
| Audi e-tron Sportback | BEV | 120/240Vac | 120Vac | M50-120T-A | |
| Audi Q5 | PHEV | 120/240Vac | 120Vac | M50-120T-A | |
Surge Protectors for Bentley Models
| Make/Model | PHEV/BEV | Main Panel Voltage | Outlet Voltage | Surge Protector Citel Model | Link |
| --- | --- | --- | --- | --- | --- |
| Bentley Bentayga Hybrid | PHEV | 120/240Vac | 120Vac | M50-120T-A | |
Surge Protectors for BMW EV Models
| Make/Model | PHEV/BEV | Main Panel Voltage | Outlet Voltage | Surge Protector Citel Model | Link |
| --- | --- | --- | --- | --- | --- |
| BMW 330e< | PHEV | 120/240Vac | 120Vac | M50-120T-A | |
| BMW 530e | PHEV | 120/240Vac | 120Vac | M50-120T-A | |
| BMW 740e xDrive | PHEV | 120/240Vac | 120Vac | M50-120T-A | |
| BMW i3 | BEV | 120/240Vac | 120Vac | M50-120T-A | |
| BMW X3 xDrive 30e | PHEV | 120/240Vac | 120Vac | M50-120T-A | |
| BMW X5 xDrive 40e | PHEV | 120/240Vac | 120Vac | M50-120T-A | |
| BMW 330e | PHEV | 120/240Vac | 120Vac | M50-120T-A | |
Surge Protectors for Chevrolet and Chrysler EV Models
| Make/Model | PHEV/BEV | Main Panel Voltage | Outlet Voltage | Surge Protector Citel Model | Link |
| --- | --- | --- | --- | --- | --- |
| Chevrolet Bolt EV | BEV | 120/240Vac | 120Vac | M50-120T-A | |
| Chrysler Pacifica Hybrid | PHEV | 120/240Vac | 120Vac | M50-120T-A | |
Surge Protectors for Ford EV Models
| Make/Model | PHEV/BEV | Main Panel Voltage | Outlet Voltage | Surge Protector Citel Model | Link |
| --- | --- | --- | --- | --- | --- |
| Ford Mustang Mach-E California Route 1 | BEV | 120/240Vac | 120Vac | M50-120T-A | |
| Ford Mustang Mach-E Select | BEV | 120/240Vac | 120Vac | M50-120T-A | |
| Ford Mustang Mach-E Premium | BEV | 120/240Vac | 120Vac | M50-120T-A | |
Surge Protectors for Honda EV Models
| Make/Model | PHEV/BEV | Main Panel Voltage | Outlet Voltage | Surge Protector Citel Model | Link |
| --- | --- | --- | --- | --- | --- |
| Honda Clarity PHEV | PHEV | 120/240Vac | 120Vac | M50-120T-A | |
Surge Protectors for Hyundai EV Models
| Make/Model | PHEV/BEV | Main Panel Voltage | Outlet Voltage | Surge Protector Citel Model | Link |
| --- | --- | --- | --- | --- | --- |
| Hyundai IONIQ Electric | BEV | 120/240Vac | 120Vac | M50-120T-A | |
| Hyundai IONIQ PHEV | PHEV | 120/240Vac | 120Vac | M50-120T-A | |
| Hyundai Kona Electric | BEV | 120/240Vac | 120Vac | M50-120T-A | |
Surge Protectors for Land Rover EV Models
| Make/Model | PHEV/BEV | Main Panel Voltage | Outlet Voltage | Surge Protector Citel Model | Link |
| --- | --- | --- | --- | --- | --- |
| Land Rover Range Rover PHEV | PHEV | 120/240Vac | 120Vac | M50-120T-A | |
| Land Rover Range Rover Sport PHEV | PHEV | 120/240Vac | 120Vac | M50-120T-A | |
Surge Protectors for Nissan EV Models
| Make/Model | PHEV/BEV | Main Panel Voltage | Outlet Voltage | Surge Protector Citel Model | Link |
| --- | --- | --- | --- | --- | --- |
| Nissan LEAF S PLUS | BEV | 120/240Vac | 120Vac | M50-120T-A | |
| Nissan LEAF S | BEV | 120/240Vac | 120Vac | M50-120T-A | |
Surge Protectors for Porsche EV Models
| Make/Model | PHEV/BEV | Main Panel Voltage | Outlet Voltage | Surge Protector Citel Model | Link |
| --- | --- | --- | --- | --- | --- |
| Porsche Cayenne S E-Hybrid | PHEV | 120/240Vac | 120Vac | M50-120T-A | |
| Porsche Panamera E-Hybrid | PHEV | 120/240Vac | 120Vac | M50-120T-A | |
| Porsche Taycan | BEV | 120/240Vac | 120Vac | M50-120T-A | |
Surge Protectors for Tesla EV Models
| Make/Model | PHEV/BEV | Main Panel Voltage | Outlet Voltage | Surge Protector Citel Model | Link |
| --- | --- | --- | --- | --- | --- |
| Tesla Model 3 Performance | BEV | 120/240Vac | 120Vac | M50-120T-A | |
| Tesla Model 3 Standard Range Plus | BEV | 120/240Vac | 120Vac | M50-120T-A | |
| Tesla Model S Long Range | BEV | 120/240Vac | 120Vac | M50-120T-A | |
| Tesla Model S Performance | BEV | 120/240Vac | 120Vac | M50-120T-A | |
| Tesla Model X Long Range | BEV | 120/240Vac | 120Vac | M50-120T-A | |
| Tesla Model X Performance | BEV | 120/240Vac | 120Vac | M50-120T-A | |
| Tesla Model Y Long Range | BEV | 120/240Vac | 120Vac | M50-120T-A | |
| Tesla Model Y Performance | BEV | 120/240Vac | 120Vac | M50-120T-A | |
Surge Protectors for Volkswagen EV Models
| Make/Model | PHEV/BEV | Main Panel Voltage | Outlet Voltage | Surge Protector Citel Model | Link |
| --- | --- | --- | --- | --- | --- |
| Volkswagen ID.4 | BEV | 120/240Vac | 120Vac | M50-120T-A | |
---
Contact us to develop a surge mitigation solution for your application
Where to purchase Citel SPD's
References
| # | Title |
| --- | --- |
| 1 | ANSI C62.41, Low-Voltage AC Power Circuits |
| 2 | UL1449 4th Edition, Surge Protective Devices |
| 3 | UL1449 5th Edition, Surge Protective Devices |
| 4 | UL497B, Surge Protectors for Data Lines and Fire-Alarm Circuits |
| 5 | UL497E, Antenna Lead-in Conductors |
| 6 | IEC 61643-11, Low-Voltage Surge Protective Devices - Part 11: Surge Protective Devices Connected To Low-Voltage Power Systems - Requirements And Test Methods |
| 7 | IEC 61643-21, Low Voltage Surge Protective Devices - Part 21: Surge Protective Devices Connected To Telecommunications And Signalling Networks - Performance Requirements And Testing Methods |
| 8 | IEC 61000-45, Electromagnetic Compatibility (EMC) - Part 4-5: Testing And Measurement Techniques - Surge Immunity Test |
| 9 | CSA 22.2 |
| 10 | NOM-001-SCFI, Standard for Electronic Equipment |
| 11 | NOM-003-SCFI, Electrical Products - Safety Requirements |
| 12 | NFPA 70, NEC 2020, Article 230.67, Dwelling Units |