Surge Protection for
Home Level 1 EV Charging Stations
OVERVIEW
Today's increased reliance on very sensitive electronics makes surge protection an important topic for Electric Vehicle (EV) Charging Systems. The Insurance Institute for Business & Home Safety study found that $26 billion dollars was lost due to non-lightning power surges. In addition, there are about 25 million lightning strikes in the US each year that cause between $650M to $1B in losses according to the Insurance Information Institute, State Farm©.
This article discusses the application of surge protection for Level 1 EV Charging Station(s) at your home, in your garage or at the workplace.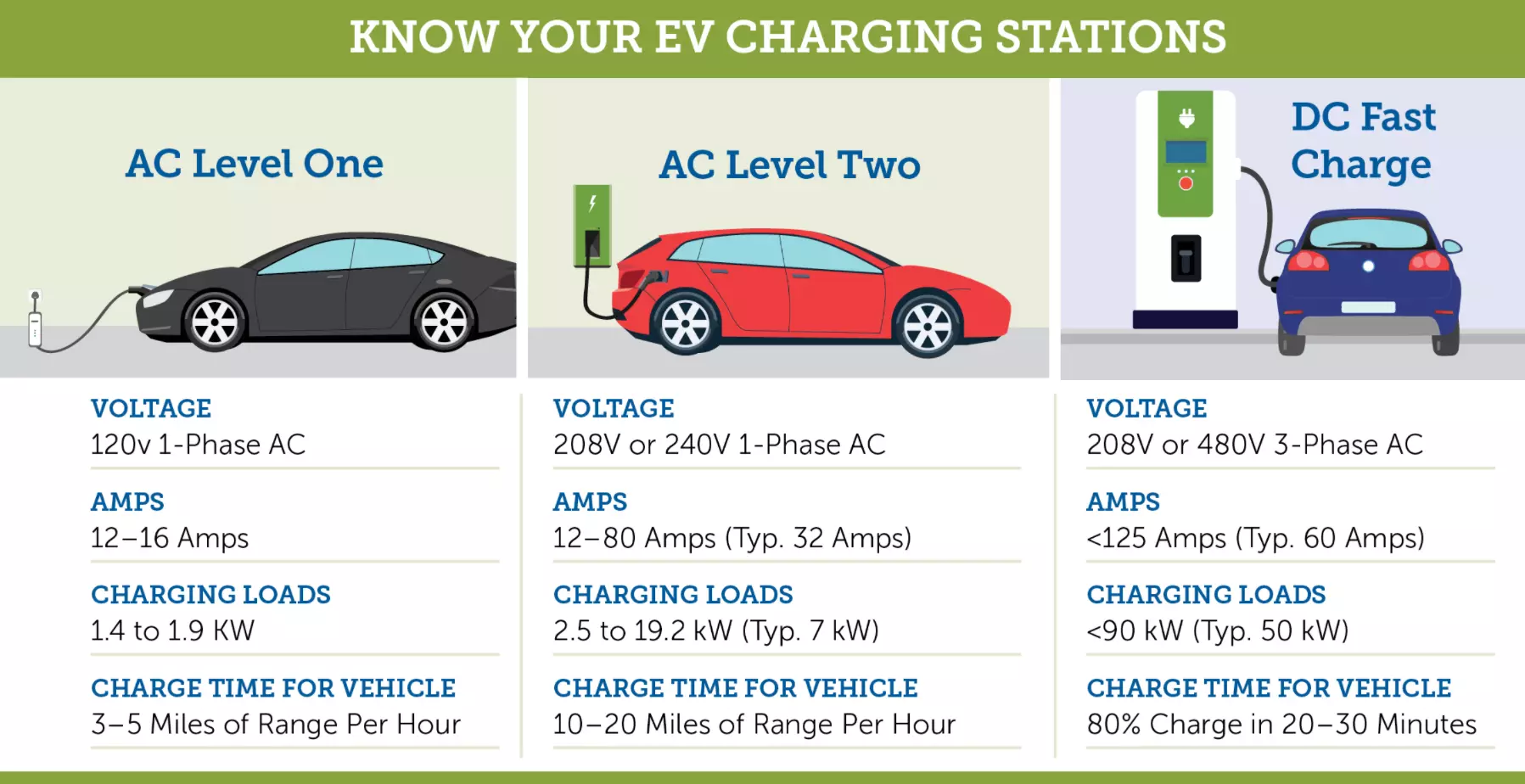 Go to Level 1 | Go to Level 2 | Go to Level 3
Level 1 EV Charging Station
Power Source : 120Vac Household Outlet
Level 1 EV Chargers are for residential home applications utilizing a standard 120Vac outlet for the power source. With up to 20 hours to charge time for a 124 mile trip, these chargers offer the convenience of a plug-in installation and portability in case that you move.
EV Level 1 SPD Protection Point : At The Main Distribution Panel
Per the NEC 2020, since your home is a dwelling unit as defined by Article 230.67, a UL1449 Listed SPD must be Installed at the incoming 120/240Vac main service panel. Shown below is an example using the M50-120T-A.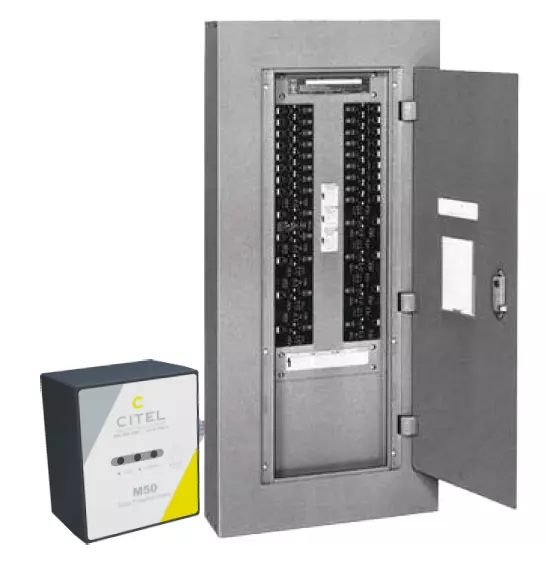 The M50-120T-A is installed via a 2-Pole 30A circuit breaker and will not only protect the Level 1 EV charging system but all circuits on the main service panel. This protector is what is referred to as a "Whole House Surge Protector".
Links to Level 1 EV SPD
Location
Equipment
System
Surge Protector
Model #
Link
Main Service Panel
120/240Vac
M50-120T-A




120/208Vac
M50-120Y-A
EV Models Currently Available in the US
Audi | Bentley | BMW | Chevrolet | Chrysler | Ford | Honda | Hyundai | Land Rover | Nissan | Porsche | Tesla | Volkswagen |
Surge Protectors for Audi EV Models
| Make/Model | PHEV/BEV | Main Panel Voltage | Outlet Voltage | Surge Protector Citel Model | Link |
| --- | --- | --- | --- | --- | --- |
| Audi A8 L 60 TFSI® e quattro tiptronic | PHEV | 120/240Vac | 120Vac | M50-120T-A | |
| Audi e-tron | BEV | 120/240Vac | 120Vac | M50-120T-A | |
| Audi e-tron Sportback | BEV | 120/240Vac | 120Vac | M50-120T-A | |
| Audi Q5 | PHEV | 120/240Vac | 120Vac | M50-120T-A | |
Surge Protectors for Bentley Models
| Make/Model | PHEV/BEV | Main Panel Voltage | Outlet Voltage | Surge Protector Citel Model | Link |
| --- | --- | --- | --- | --- | --- |
| Bentley Bentayga Hybrid | PHEV | 120/240Vac | 120Vac | M50-120T-A | |
Surge Protectors for BMW EV Models
| Make/Model | PHEV/BEV | Main Panel Voltage | Outlet Voltage | Surge Protector Citel Model | Link |
| --- | --- | --- | --- | --- | --- |
| BMW 330e< | PHEV | 120/240Vac | 120Vac | M50-120T-A | |
| BMW 530e | PHEV | 120/240Vac | 120Vac | M50-120T-A | |
| BMW 740e xDrive | PHEV | 120/240Vac | 120Vac | M50-120T-A | |
| BMW i3 | BEV | 120/240Vac | 120Vac | M50-120T-A | |
| BMW X3 xDrive 30e | PHEV | 120/240Vac | 120Vac | M50-120T-A | |
| BMW X5 xDrive 40e | PHEV | 120/240Vac | 120Vac | M50-120T-A | |
| BMW 330e | PHEV | 120/240Vac | 120Vac | M50-120T-A | |
Surge Protectors for Chevrolet and Chrysler EV Models
| Make/Model | PHEV/BEV | Main Panel Voltage | Outlet Voltage | Surge Protector Citel Model | Link |
| --- | --- | --- | --- | --- | --- |
| Chevrolet Bolt EV | BEV | 120/240Vac | 120Vac | M50-120T-A | |
| Chrysler Pacifica Hybrid | PHEV | 120/240Vac | 120Vac | M50-120T-A | |
Surge Protectors for Ford EV Models
| Make/Model | PHEV/BEV | Main Panel Voltage | Outlet Voltage | Surge Protector Citel Model | Link |
| --- | --- | --- | --- | --- | --- |
| Ford Mustang Mach-E California Route 1 | BEV | 120/240Vac | 120Vac | M50-120T-A | |
| Ford Mustang Mach-E Select | BEV | 120/240Vac | 120Vac | M50-120T-A | |
| Ford Mustang Mach-E Premium | BEV | 120/240Vac | 120Vac | M50-120T-A | |
Surge Protectors for Honda EV Models
| Make/Model | PHEV/BEV | Main Panel Voltage | Outlet Voltage | Surge Protector Citel Model | Link |
| --- | --- | --- | --- | --- | --- |
| Honda Clarity PHEV | PHEV | 120/240Vac | 120Vac | M50-120T-A | |
Surge Protectors for Hyundai EV Models
| Make/Model | PHEV/BEV | Main Panel Voltage | Outlet Voltage | Surge Protector Citel Model | Link |
| --- | --- | --- | --- | --- | --- |
| Hyundai IONIQ Electric | BEV | 120/240Vac | 120Vac | M50-120T-A | |
| Hyundai IONIQ PHEV | PHEV | 120/240Vac | 120Vac | M50-120T-A | |
| Hyundai Kona Electric | BEV | 120/240Vac | 120Vac | M50-120T-A | |
Surge Protectors for Land Rover EV Models
| Make/Model | PHEV/BEV | Main Panel Voltage | Outlet Voltage | Surge Protector Citel Model | Link |
| --- | --- | --- | --- | --- | --- |
| Land Rover Range Rover PHEV | PHEV | 120/240Vac | 120Vac | M50-120T-A | |
| Land Rover Range Rover Sport PHEV | PHEV | 120/240Vac | 120Vac | M50-120T-A | |
Surge Protectors for Nissan EV Models
| Make/Model | PHEV/BEV | Main Panel Voltage | Outlet Voltage | Surge Protector Citel Model | Link |
| --- | --- | --- | --- | --- | --- |
| Nissan LEAF S PLUS | BEV | 120/240Vac | 120Vac | M50-120T-A | |
| Nissan LEAF S | BEV | 120/240Vac | 120Vac | M50-120T-A | |
Surge Protectors for Porsche EV Models
| Make/Model | PHEV/BEV | Main Panel Voltage | Outlet Voltage | Surge Protector Citel Model | Link |
| --- | --- | --- | --- | --- | --- |
| Porsche Cayenne S E-Hybrid | PHEV | 120/240Vac | 120Vac | M50-120T-A | |
| Porsche Panamera E-Hybrid | PHEV | 120/240Vac | 120Vac | M50-120T-A | |
| Porsche Taycan | BEV | 120/240Vac | 120Vac | M50-120T-A | |
Surge Protectors for Tesla EV Models
| Make/Model | PHEV/BEV | Main Panel Voltage | Outlet Voltage | Surge Protector Citel Model | Link |
| --- | --- | --- | --- | --- | --- |
| Tesla Model 3 Performance | BEV | 120/240Vac | 120Vac | M50-120T-A | |
| Tesla Model 3 Standard Range Plus | BEV | 120/240Vac | 120Vac | M50-120T-A | |
| Tesla Model S Long Range | BEV | 120/240Vac | 120Vac | M50-120T-A | |
| Tesla Model S Performance | BEV | 120/240Vac | 120Vac | M50-120T-A | |
| Tesla Model X Long Range | BEV | 120/240Vac | 120Vac | M50-120T-A | |
| Tesla Model X Performance | BEV | 120/240Vac | 120Vac | M50-120T-A | |
| Tesla Model Y Long Range | BEV | 120/240Vac | 120Vac | M50-120T-A | |
| Tesla Model Y Performance | BEV | 120/240Vac | 120Vac | M50-120T-A | |
Surge Protectors for Volkswagen EV Models
| Make/Model | PHEV/BEV | Main Panel Voltage | Outlet Voltage | Surge Protector Citel Model | Link |
| --- | --- | --- | --- | --- | --- |
| Volkswagen ID.4 | BEV | 120/240Vac | 120Vac | M50-120T-A | |
---
Contact us to develop a surge mitigation solution for your application
Where to purchase Citel SPD's
References
| # | Title |
| --- | --- |
| 1 | ANSI C62.41, Low-Voltage AC Power Circuits |
| 2 | UL1449 4th Edition, Surge Protective Devices |
| 3 | UL1449 5th Edition, Surge Protective Devices |
| 4 | UL497B, Surge Protectors for Data Lines and Fire-Alarm Circuits |
| 5 | UL497E, Antenna Lead-in Conductors |
| 6 | IEC 61643-11, Low-Voltage Surge Protective Devices - Part 11: Surge Protective Devices Connected To Low-Voltage Power Systems - Requirements And Test Methods |
| 7 | IEC 61643-21, Low Voltage Surge Protective Devices - Part 21: Surge Protective Devices Connected To Telecommunications And Signalling Networks - Performance Requirements And Testing Methods |
| 8 | IEC 61000-45, Electromagnetic Compatibility (EMC) - Part 4-5: Testing And Measurement Techniques - Surge Immunity Test |
| 9 | CSA 22.2 |
| 10 | NOM-001-SCFI, Standard for Electronic Equipment |
| 11 | NOM-003-SCFI, Electrical Products - Safety Requirements |
| 12 | NFPA 70, NEC 2020, Article 230.67, Dwelling Units |