What is a Whole House Surge Protector?

OVERVIEW
Today's increased reliance on very sensitive electronics makes surge protection an important topic for Residential Smart Homes. The Insurance Institute for Business & Home Safety study found that $26 billion dollars was lost due to non-lightning power surges. In addition, there are about 25 million lightning strikes in the US each year that cause between $650M to $1B in losses according to the Insurance Information Institute, State Farm©.
This page discusses how to best protect your home and all the electronics within it.
Where To Install My Whole Home Surge Protector?
Per the NEC 2020, since your home is a dwelling unit as defined by Article 230.67, a UL1449 Listed SPD must be Installed at the incoming 120/240Vac main service panel. Shown below is an example using the M50-120T-A.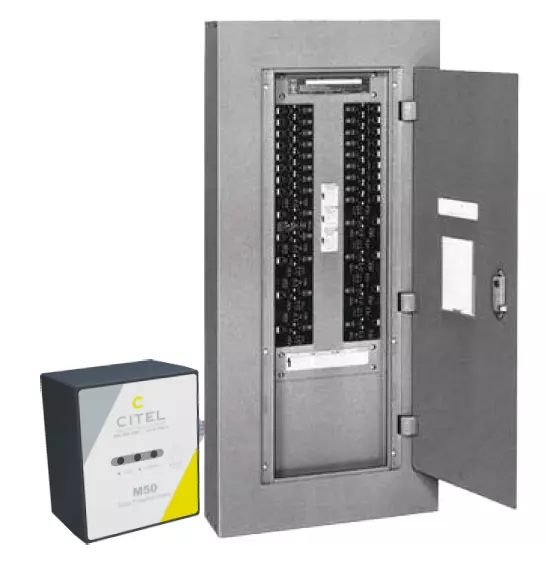 The M50-120T-A is installed via a 2-Pole 30A circuit breaker and will not only protect the main service panel but all smart applicances and electronics in the home like your oven, refrigerator, dishwasher, security system, televisions.
Links to SPD for your home
| Location | System | Surge Protector Model # | Link |
| --- | --- | --- | --- |
| Main Service Panel | 120/240Vac | M50-120T-A | |
| Main Service Panel | 120/208Vac | M50-120Y-A | |
| Cable Broadband Router | Coaxial | P8AX09-F/FF | |
| Ethernet Switch | Cat. 6A | MJ8-C6A | |
---
Contact us to develop a surge mitigation solution for your application
Where to purchase Citel SPD's